Private Venue Descriptions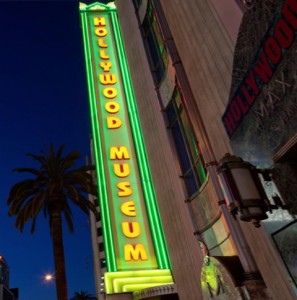 Lights, Camera, Action!
Walk down Hollywood Blvd. and just steps from the corner of Highland Ave., see our sign signaling you to experience the magic of The Hollywood Museum in The Historic Max Factor Building. Enjoy 4 Floors of exhibits showcasing one of the world's largest collections of Hollywood memorabilia ever assembled. Explore authentic costumes, awards, photos, cars, sets, props, posters, and prized possessions of Hollywood's most famous legends spanning 100 Years of Hollywood– from the Silents to Talkies to Hollywood's Golden Era,  Film Noir,  through the rebellious 60's,  special effects 70's,  evolving 80's,  involved 90's, technological 2000's, and beyond to current day heartthrobs!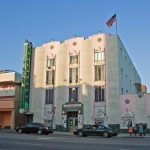 The Award Winning Art Deco Exterior
The restored Historic Max Factor Building is home to The Hollywood Museum. The Hollywood Regency Art Deco style building was designed by noted architect S. Charles Lee and, in 1928, was purchased by legendary makeup artist Max Factor as his Hollywood headquarters.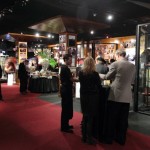 The Museum's Interior Venue Spaces
The 35,000 square foot, 5-story building has 4 levels of exhibit space , including the lower level that was once a bowling alley, a Prohibition-era speakeasy, and now hosts the spine tingling "Dungeon of Doom", and the glamorous Penthouse Ballroom.
THE MAIN FLOOR   Capacity: 20-200
After making their grand entrance, guests can explore the following areas of the main floor
LOBBY  
Check-in area/ Gift bag area, Red carpet entry
The historically restored Art Deco Regency-style lobby features ambient lighting and period chandeliers. It adjoins an open area for mingling with food and beverage service and Max Factor's world famous makeup rooms where the stars got their glamorous "looks."
THE MAKEUP ROOMS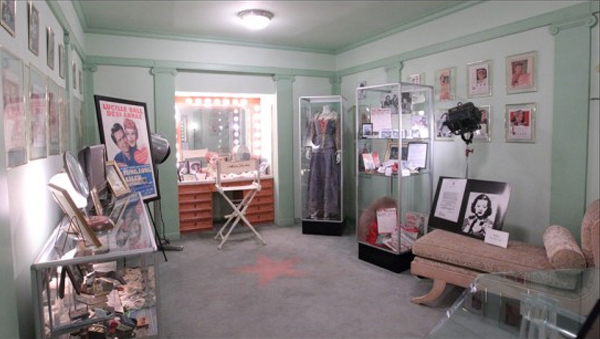 Max Factor's 4 World Famous Makeup Rooms include The Blondes Only Room, where Norma Jeane was transformed into the blonde bombshell, Marilyn Monroe; The Redheads Only Room, where Lucille Ball got her signature red hair; The Brownettes Only Room, where Judy Garland primped and posed in front of the mirror; and The Brunettes Only Room, where Elizabeth Taylor, Joan Crawford, and all the brunette greats were "glammed."
SCIENCE FICTION EXHIBITS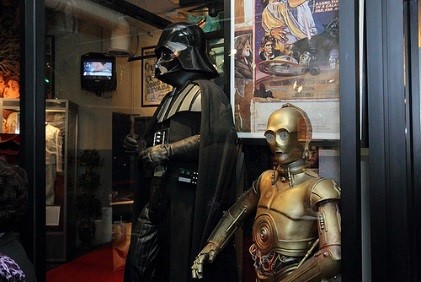 See the costumes of Darth Vader, C-3PO, and the Imperial Storm Troopers from Star Wars. Check out the garb Spock and Captain Kirk wore in Star Trek V: The Final Frontier. Admire original costumes and props from Sci-Fi movies and TV shows everyone loves, including Jurassic Park, Planet of the Apes, Jaws, and more!
THE SCREENING ROOM   Capacity: 40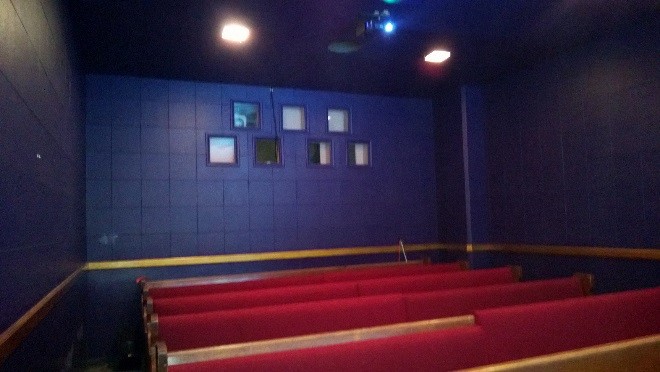 A customized presentation can be projected in a DVD format while guests watch from the original seating from The Exorcist.
THE HISTORIC PHOTO GALLERY   Capacity: 20 to 60, depending on set up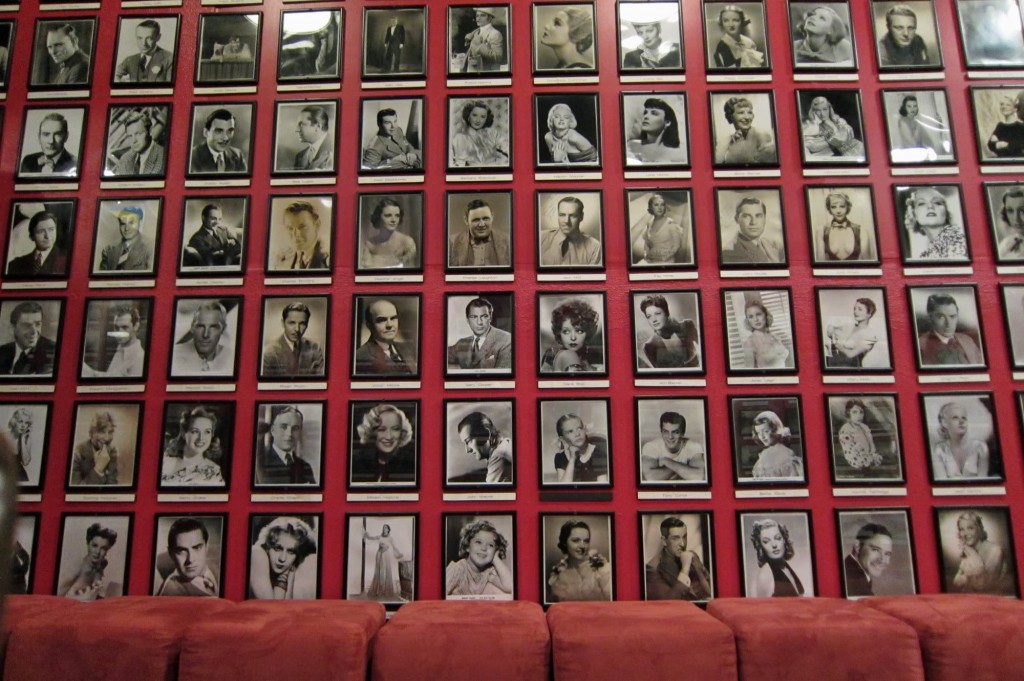 Max Factor's former Wig Room has been converted to a photo gallery filled with more than 1,000 vintage black and white Hollywood photos and can be used for seminars, board meetings or as a VIP green room. Additionally, It is available for private breakfasts and lunches during regular museum hours.
THE GRAND ELEVATOR   Capacity: 40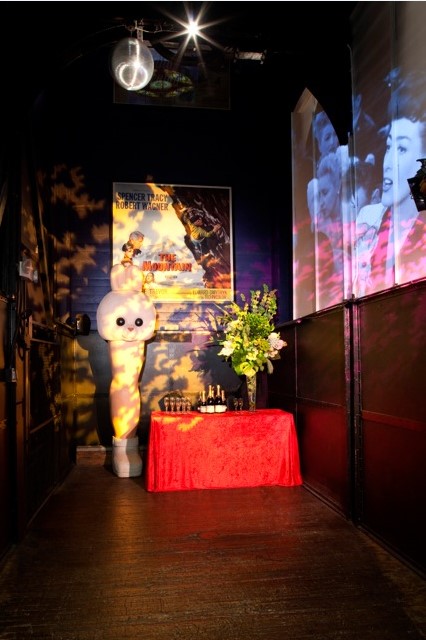 The converted freight elevator can be set with a cocktail bar and has dramatic lighting, sound and projection. It features a huge stained glass chandelier hand-made by Tony Curtis and vintage '6-sheet movie posters'. The elevator can hold up to 12,000 pounds, and can even transport an automobile.
EXHIBIT FLOORS   Capacity: 130 to 200 per floor, depending on set up
The exhibits on the second and third floors feature "100 Years of Hollywood", costumes and memorabilia from favorite motion pictures and television shows, past and present, as well as the official history of the Hollywood Walk of Fame.
2ND FLOOR: SPECIAL EXHIBIT AREA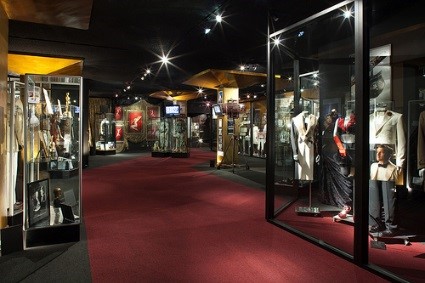 Be star-struck by our detailed, star-studded seasonal rotating special exhibitions. Recent exhibits include Marilyn Monroe: The Exhibit; Loretta Young: Hollywood Legend; The Hollywood Museum Presents: TV Memories; A Tribute to Michael Jackson; and Harry Potter's Wizardry Lives On At The Hollywood Museum.
3RD FLOOR: EXHIBIT AREA AND THE HOLLYWOOD WALK OF FAME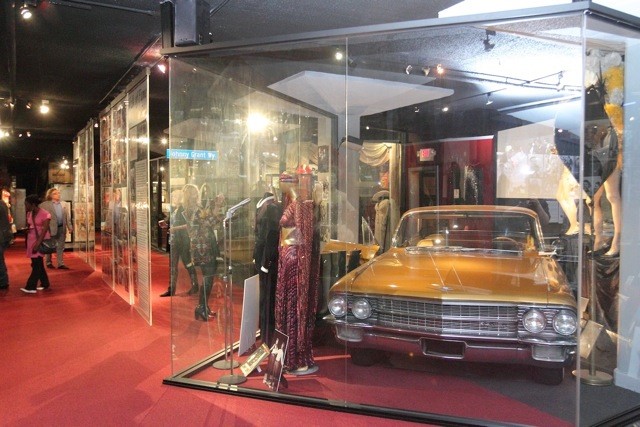 Enjoy "100 Years of Hollywood". Revisit favorite  eras – from the Silents to Talkies to Hollywood's Golden Era,  Film Noir,  through the rebellious 60's,  special effects 70's,  evolving 80's,  involved 90's, technological 2000's, and beyond to current day heartthrobs! See the history of The Hollywood Walk of Fame, complete with authentic photos of celebrities receiving their stars on the most visited "Walk of Fame" in the world!
THE LOWER LEVEL: DUNGEON OF DOOM   Capacity: 120-140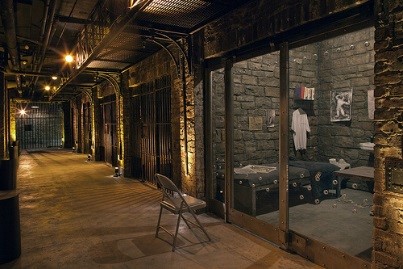 What is that chilling sound, coming from the basement? See spine-tingling exhibits of movie props, costumes, and memorabilia from the horror films and TV shows of yesterday and today. Experience the movie set and prison corridor from the movies Silence of the Lambs and Red Dragon; Frankenstein, A Nightmare on Elm Street, Elvira, Mistress of the Dark, and more.  It's the perfect setting for a Halloween party or theme dinner!
4TH FLOOR: THE PENTHOUSE BALLROOM   Capacity: 300 seated, 650 cocktail reception, 400 theater style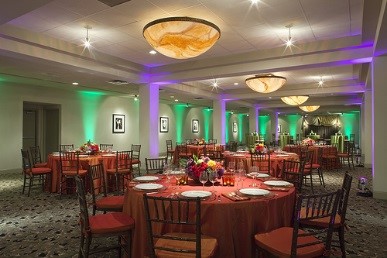 The elegant art deco Penthouse Ballroom overlooks Hollywood and Highland. This flexible event space can also be utilized for tradeshows or automotive events as the elevator has the ability to transport a vehicle or large displays.
Features include 8 – 60" Flat screen TVs/ DVD format. stage,  podium, dance floor, stunning lounge furnishings, and prep kitchen
To see our Exhibit Information Pages, click here! 

Shooting a film and need location ideas? Click here! 

Want to add movie props and costumes to the Museum? Click here!