Marlene Dietrich items only on view for a limited time!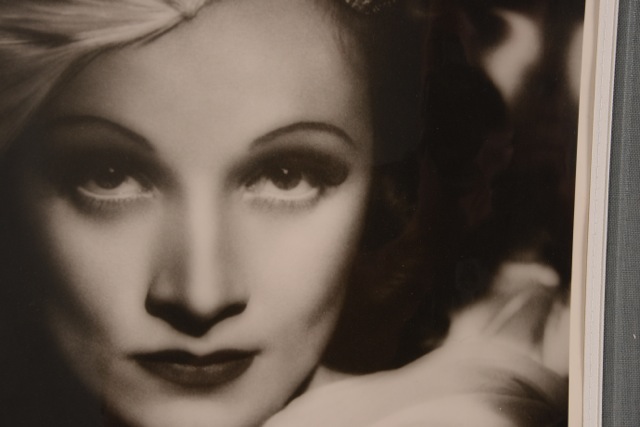 Grande Dame of Hollywood's Golden Era, Marlene Dietrich
Auction Items on Public View in Exclusive Exhibit
at The Hollywood Museum ­­­­­­­­­­­­­­­­– ­­­­­­­Auction Opens March 19
Get tickets here!
Before there was Lady Gaga….before there was Madonna…there was Marlene Dietrich. Unique among the Grande Dames of Hollywood's golden age, she was so far ahead of her time. She is as relevant today as she was in her 1930s and 40s heyday.
The Hollywood Museum is hosting an exclusive collection of rare Marlene Dietrich items that will be become available for public sale in a auction for the first time on March 19 at auctionmystuff.com.
The 250 item exhibit includes one of her famous tuxedos, an intimate letter between her and Ernest Hemingway and the plaque from her Queens Theatre dressing room.
Max Factor, the Hollywood make-up king to the stars, enhanced Dietrich's features to create a very dramatic, mysterious effect.  She is known for her smoky eyes,  prominent cheekbones, voluptuous lips and wigs sprinkled with real gold dust.
How fitting to exhibit the Marlene Dietrich collection in the FOR BRUNETTES ONLY Room in the Historic Max Factor Building where Max Factor created her glamorous and famous look.
Photo credit: Auction My Stuff
 # # #
ABOUT THE HOLLYWOOD MUSEUM: The Hollywood Museum houses 10,000 real showbiz treasures and the most extensive collection of Hollywood costumes, star cars, props, posters, photographs and memorabilia in the world with over 100 years of Hollywood history. From Marilyn Monroe's costumes, the official Walk of Fame Exhibit to  Hannibal Lector's jail cell movie set from Silence of the Lambs, The Hollywood Museum is also home to Max Factor's world-famous makeup rooms where Marilyn Monroe became a blonde and Lucille Ball first donned her famous red hair.
WEBSITE: www.TheHollywoodMuseum.com
FACEBOOK: Facebook.com/TheHollywoodMuseum
TWITTER: @HollywoodMuseum