Halloween: Dungeon of Doom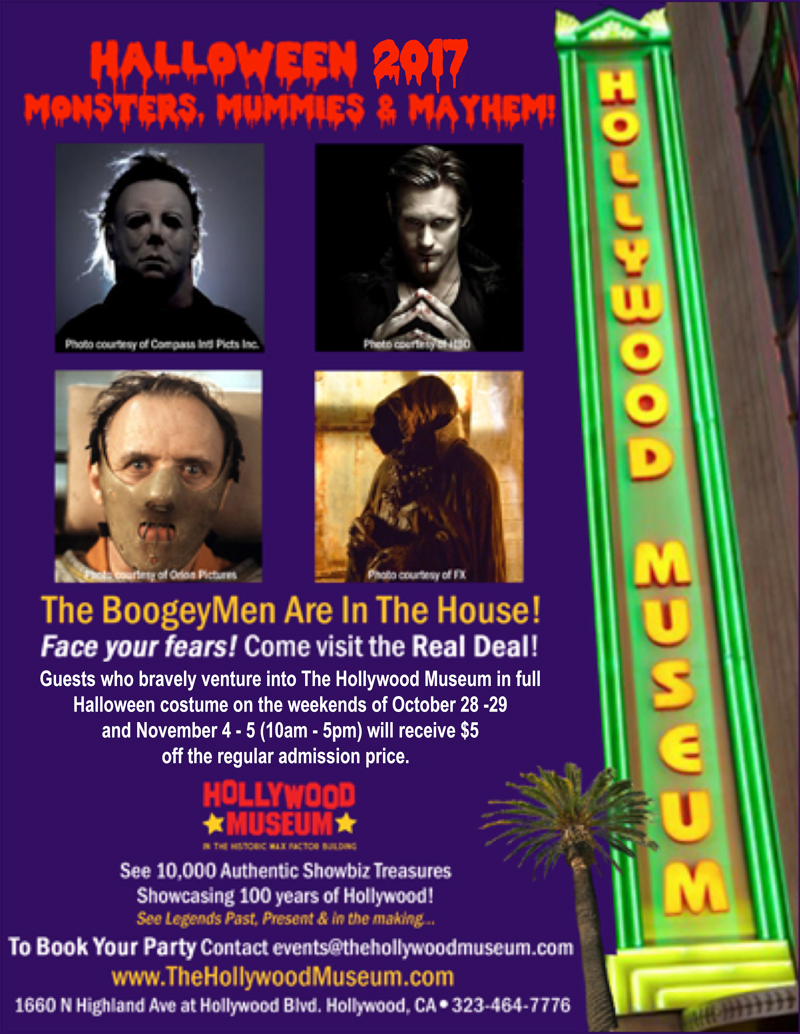 Halloween in The Hollywood Museum's Dungeon of Doom
Monsters, Mummies and Mayhem: Your Worst Nightmares Come to Life
All of Hollywood's Psychos Under One Roof

Hollywood, California, October 20, 2017– Ever wonder how Freddy Kruger keeps his razors so sharp? Or where Eric Northman sleeps when he's not terrorizing True Blood residents? Or where Clarice Starling met Hannibal Lecter? Horror fans can find this out and more ghoulish facts & fiction when they visit The Hollywood Museum's newest exhibition Monsters, Mummies and Mayhem: Your Worst Nightmares Come to Life. 
Horror's favorite teenage heartthrob vampires, terrifying boogiemen, zombies and mysterious demons will be showcased in this spine-tingling Halloween-themed exhibition, which runs through November 19, 2017.
This October and November, The Hollywood Museum showcases its famous "Dungeon of Doom" exhibit, including sets, props, and costumes from some of Hollywood's scariest and most-memorable film and television programs, including horror hostesses – the ever popular Elvira, Mistress of the Dark, and from the 50's – Vampira. And check out the Makeup legends Jack Pierce and John Chambers who created Frankenstein, Dracula, Wolfman, and more.
Bring your friends and get a close look at featured cult-classic villains Freddy Krueger from "Nightmare on Elm Street" (1984); Michael Myers from "Halloween 4: The Return of Michael Meyers" (1988); Jason Voorhees from "Friday the 13th" (1980); Chucky from "Child's Play" (1988); the 'happy couple' from "The Bride of Frankenstein" ( 1935), Johnny Depp from "Sweeney Todd: The Demon Barber of Fleet Street" (2007), Kate Winslet's skeleton costume from "Eternal Sunshine of the spotless Mind", "Blair Witch Project" (1999), and more!
Walk through Hannibal Lecter's jail cell (Silence of the Lambs, 1988) and see movie and TV props from "True Blood" (2008 -2014), "The Walking Dead" (2010-present), "The Exorcist" (1973), "The Birds" (1963), "Psycho" (1960), "Underworld" (2003); "The Mummy" (1999), "Quills" (2000), "Uncle Sam" (1997), "Van Helsing" (2004), "Dexter" (2006-present), to name a few…
The Hollywood Museum is located in the Historic Max Factor Building at 1660 N. Highland Ave. (at Hollywood Blvd.) in the heart of Hollywood.
Guests who bravely venture into The Hollywood Museum in full Halloween costume on the weekends of October 24–October 26 and October 31–November 2 (10am – 5pm) will receive $5 off the regular admission price.
Don't Miss Out! – The Hollywood Museum's Halloween exhibit made the LAist Halloween list!