Marilyn Monroe: The Exhibit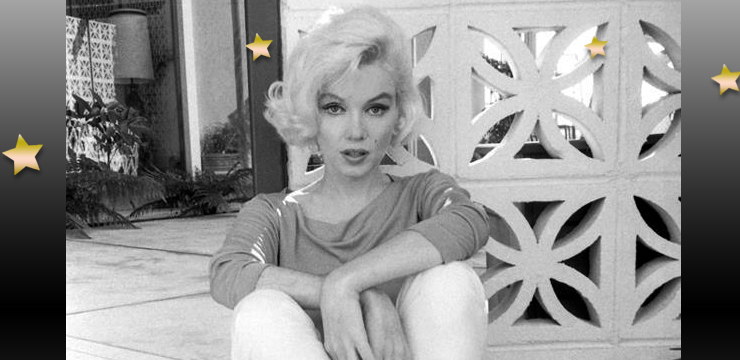 Marilyn: The Exhibit
By Popular Demand! Now Extended Through September 22nd, 2012!
This year marks  the 50th anniversary of Marilyn Monroe's passing and the Hollywood Museum will be hosting a huge exhibit for Marilyn, opening on June 1, 2012.
Highlighting the exhibit will be works by guest author / photographer George Barris, best known for his work with Marilyn Monroe and the last photographer to have a session with her before her death. He will exhibit never-before-seen pictures of Marilyn.
www.georgebarrisphotos.com
Some of Marilyn's extensive collection at the Hollywood Museum includes:
Marilyn Monroe's million-dollar honeymoon dress, worn on her honeymoon for her marriage to Joe DiMaggio.  This was Marilyn's favorite gown designed by Ceil Chapman, hand beaded in Marilyn's signature style. Marilyn wore this gown on numerous occasions including a USO tour to entertain 10,000 troops in Korea in 1954.

Marilyn's famous cream colored, beaded costume worn in the 1957 film

The Prince and the Show Girl

.

Personal wardrobe items including the lime green Pucci blouse Marilyn Monroe wore in the last ever photos of her taken alive, together with Marilyn's favorite furs and accessories.

The evening cape worn by Marilyn to the 1955 world premiere of the James Dean classic

East of Eden

.

Furniture and artwork from Marilyn's Brentwood home, including the solid wood dresser that was next to Marilyn's bed in her bedroom the night she died.

Never before seen photographs of Marilyn Monroe taken by her close personal friend George Barris.

NBC's critically acclaimed "Smash" will have a special costume display featuring their Marilyn Monroe dresses.

The famous "Red Velvet" photographs by photographer Tom Kelly. Shot in 1949, Marilyn was still a struggling actress, delinquent in her monthly car rental payments and on the brink of having her car repossessed. To earn quick money, Marilyn agreed to pose at a typical "day rate" for what would become this legendary photo shoot.

Original works of art by famed artist Robert A. Delgadillo and LUDVIC.
Max Factor 's "Marilyn Monroe" makeup room where he created the famous "Marilyn Monroe blonde" hair including Marilyn's makeup case and other personal items on display.

A prescription pill bottle and the Decodron vial found next to her bed at the time of her death.

A vast photograph collection of many never-before-seen photos of Marilyn's childhood, family and early modeling career, including an array of photographs showing how Monroe lived, worked and played in Los Angeles.
Original Magazine and newspaper articles conveying Monroe's popularity and the kinds of coverage accorded both her career and personal life.
Rare family photographs of Marilyn Monroe.

Marilyn Monroe's annotated film scripts, personal letters, invoices, receipts and financial accounting documents, showcasing in great detail the personal and very private life of the greatest film star of all time.
An original Ralph Emerson Jr. High School photo showing a young Norma Jeane.

Marilyn's personal Kodak Brownie camera from her childhood.

And much more…

Get info and tickets here!
---
Proud Sponsors & Contributors
to "Marilyn: The Exhibit"
Alma Corporation
Bison Archives
Carolyn Barris, George Barris Collection
George Barris, Photographer
Gordon Herigstad
Hollygrove and EMQ – Families First Agency
Robert A Delgado, RAD 
Ludvic
Jill Adams
NBC/Universal "Smash"
Scott Fortner, The Marilyn Monroe Collection
The Greg Schreiner Marilyn Monroe Collection
The Marilyn Monroe Estate
The Marilyn Remembered Fan Club
The Hollywood Museum Permanent Collection
---
About | ●  The Hollywood Museum
The Hollywood Museum, the official museum of Hollywood, has the most extensive collection of Hollywood memorabilia in the world. The museum, featuring four floors of breathtaking exhibits, is home to more than 10,000 authentic showbiz treasures– one of a kind costumes, props, photographs, scripts, stars' car collections and personal artifacts, posters, and vintage memorabilia from favorite films and TV shows. The museum also showcases the history of Hollywood and the Hollywood Walk of Fame.
See hundreds of costumes on display, including Marilyn Monroe's million dollar dress, Elvis' personal bathrobe, I Love Lucy, Superman, Star Trek, Transformers, Glee, High School Musical, Michael Jackson, Leonardo DiCaprio, plus Rocky's boxing gloves, Sopranos, Tom Cruise, Nicole Kidman, Beyoncé… See Lucy, Judy, Kate and all the greats! Plus the Rat Pack, Jurassic Park, Baywatch, Jaws, Planet of the Apes, The Flintstones, Harry Potter, Miley Cyrus, George Clooney, Jennifer Lopez, Brad Pitt and Angelina Jolie…and more!!!
Don't miss the lower level to experience Hannibal Lecter's jail cell from Silence of the Lambs, Boris Karloff's mummy, Vampira, Frankenstein and his bride, Elvira– Mistress of the Dark, and other cult horror film favorites.
The Hollywood Museum is housed in the historic Max Factor Building where Max Factor, Hollywood's Makeup King , created the looks of Hollywood's Golden Era stars including Joan Crawford, Bette Davis, Katharine Hepburn, Judy Garland, Mae West, Jean Harlow & Marilyn Monroe and all your favorite stars…from the Silents through the 1970's… Don't forget to visit Max Factor's world famous makeup rooms and see where Hollywood's greatest stars got their "look". See where Marilyn Monroe became a blonde and Lucille Ball a famous redhead!
Visit the largest collection of costumes, props, posters and photographs Hollywood has to offer!
Open Wed. – Sun. 10am – 5pm
1660 N. Highland Ave., at Hollywood Blvd.
(323) 464-7776 
www.TheHollywoodMuseum.com
The Hollywood Museum is a 501 (c) (3) not-for-profit corporation.
---
For The Hollywood Museum info: www.TheHollywoodMuseum.com
Like us on Facebook: Facebook.com/TheHollywoodMuseum
Follow us on Twitter: @HollywoodMuseum