Past Exhibit: Ring in the Holidays with the Magic of Tinsel Town and TV!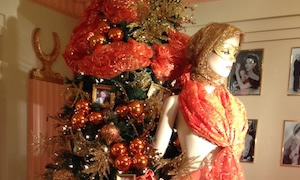 Celebrate The Best Of Hollywood's Television Legends and         
Party With The Stars At The Hollywood Museum
The Ultimate Destination For The Holidays In Hollywood!
What does Lucy, Jeannie, Jed Clampett and Tony Soprano have in common? They are all celebrating Christmas at The Hollywood Museum in the Historic Max Factor Building.  Guests can view "I Dream of Jeannie's" magical lamp, the classic truck from "The Beverly Hillbillies," the Max Factor room where Lucille Ball became a redhead, costumes worn in "The Walking Dead" and actual Emmy Award statuettes, among other authentic memorabilia of the television classics spotlighted in the "Salute to TV Legends." This nostalgic holiday exhibit, honoring the magic of television and spotlighting the TV memories that have captured the hearts of Americans over the past 60 years, showcases the largest selection of costumes and props from more than 40 television shows. As Ed Sullivan once said, "We've got a really big show!"
From "Yabba Dabba Doo" to "yada,yada,yada…," come share the Christmas joy with this legendary exhibit at The Hollywood Museum, the official museum of Hollywood and the Walk of Fame, and much more! Be sure to book a special exclusive docent tour with your family and friends, and actually hold an Emmy® statue! The exhibit is on display through January 2013.
There is something for everyone of all ages with four floors of more than 10,000 pieces of authentic showbiz memorabilia showcasing 100 years of Hollywood. Discover the glamour of Hollywood – from Mary Pickford & Rudolf Valentino, to Elvis & Marilyn Monroe, and Brad Pitt & Angelina Jolie!! Don't miss our Historic Photo Gallery and Dungeon of Doom. The Hollywood Museum is located in the Historic Max Factor Building, 1660 N. Highland Avenue at Hollywood Blvd. See Max Factor's World Famous makeup rooms where Marilyn Monroe became a blonde and Lucille Ball a redhead!
Open Wed. – Sun. 10am – 5pm
1660 N. Highland Ave., at Hollywood Blvd.
(323) 464-7776
www.TheHollywoodMuseum.com
The Hollywood Museum is a 501 (c)(3) not-for-profit corporation.
---
To read about The Hollywood Museum, click here.
Visit us on Facebook, here. 
Follow us on Twitter, here.