Monsters, Mummies and Mayhem: Your Worst Nightmares Come to Life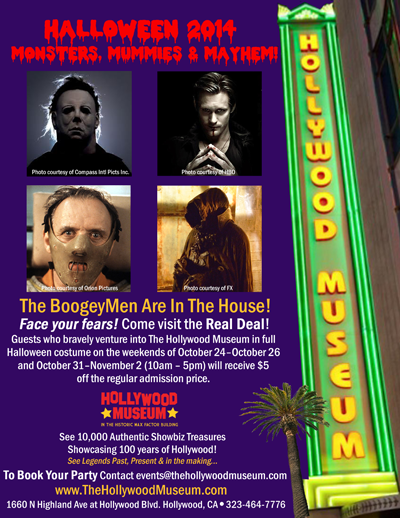 All of Hollywood's Psychos Under the Same Roof
Hollywood, California, September 30, 2014 – Ever wonder where Eric Northman sleeps when he's not terrorizing True Blood residents? Or where Clarice Starling met Hannibal Lecter? Horror fans can find out when they visit The Hollywood Museum's newest exhibition Monsters, Mummies and Mayhem: Your Worst Nightmares Come to Life. Horror's favorite teenage heartthrob vampires, terrifying boogiemen, zombies and mysterious demons will be showcased in this spine-tingling Halloween-themed exhibition, which runs from October 11 to November 19. The Hollywood Museum is located in the Historic Max Factor Building at 1660 N. Highland Ave. (at Hollywood Blvd.) in the heart of Hollywood.
Guests who bravely venture into The Hollywood Museum in full Halloween costume on the weekends of October 24–October 26 and October 31–November 2 (10am – 5pm) will receive $5 off the regular admission price.
Don't Miss Out! – The Hollywood Museum's Halloween exhibit made the LAist's Halloween list!