Marilyn: The Exhibit Returns to The Hollywood Museum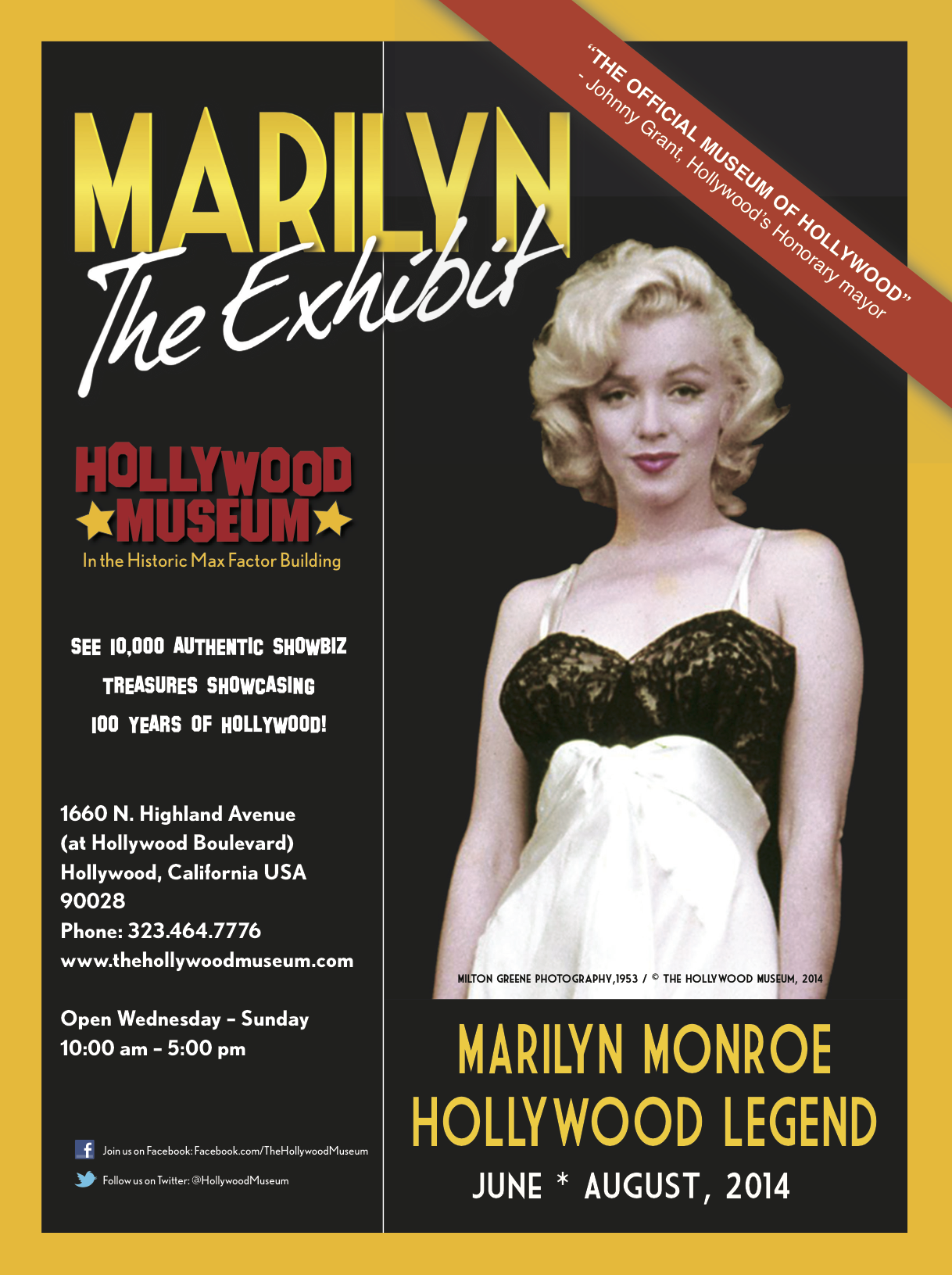 Commemorating the 52nd Anniversary of Her Passing August marks the 52nd Anniversary of Marilyn Monroe's passing and her legendary image still lives on as a superstar and ultimate icon of glamour and beauty. Marilyn: The Exhibit returns to the The Hollywood Museum showcasing an intimate look at the fabled actress' life and legacy with an exclusive exhibit of authentic memorabilia. The annual retrospective spans Marilyn Monroe's early life as Norma Jeane to Hollywood mega star "Marilyn," showcasing her gorgeous gowns, personal wardrobe, jewelry, 1961 Fleetwood Cadillac limousine given as a gift from Darryl Zanuck, photograph collections, documents from her private files and many of Marilyn's personal artifacts. The Hollywood Museum in the Historic Max Factor Building is located at 1660 N. Highland Ave. in the heart of Hollywood.
 "Year after year fans never fail to honor Marilyn's life and memory," says Museum President and Founder Donelle Dadigan. "The Hollywood Museum is pleased to host this annual Marilyn retrospective in memorial. This Museum is considered the perfect home for this exhibit since it was here that Max Factor originally designed Marilyn's on-screen hair and coloring, transforming her into the sexy blonde we know and love," says Dadigan. "When you walk into the 'FOR BLONDES ONLY ROOM,' you feel Marilyn Monroe's presence."
Marilyn: The Exhibit houses the one and only million-dollar dress worn by Marilyn on her honeymoon with baseball legend, Joe DiMaggio. The dress was made famous when Marilyn went on a USO tour to entertain 10,000 troops in Korea. The exhibition also showcases items including Marilyn's pink Pucci top made of striking hot pink silk jersey, Springolator high heels, jewelry, an early cocktail dress she bought at the start of her career, a Playboy spread and bustier, as well as the Decadron vial found at Marilyn's bedside at the time of her death.
The exhibit also features exclusive photographs on display by famed photographer Milton Greene and Douglas Kirkland.
Located at 1660 N. Highland Ave. (at Hollywood Blvd), Hollywood, CA 90028  (323) 464-7776
Website: www.TheHollywoodMuseum.com
Facebook: Facebook.com/TheHollywoodMuseum
Twitter/ Instagram: @HollywoodMuseum
Open to the public Wednesday – Sunday, 10:00am – 5:00pm
Private tours available by advance reservation.