Exhibit: Elvira, Mistress of the Dark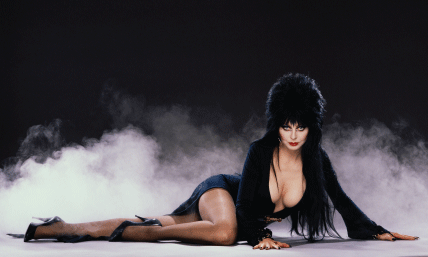 The Hollywood Museum is thrilled to have Elvira, Mistress of the Dark just in time for Halloween!
"If ever there was a holiday that deserves to be commercialized, it's Halloween. We haven't taken it away from kids. We've just expanded it so that the kid in adults can enjoy it, too."  -Cassandra Peterson, Elvira
We have seen her over the years in her signature, plunging neckline dress and raven-black bouffant hairdo accompanied by her unmistakable macabre accessories: ruby rings, serpent earrings, black fingernails, black pumps, and a dagger that she wears on her belt.  Now guests can experience "Elvira" and her original props, costumes, and Hollywood-story that made her famous around the world.
Some of the exhibit highlights include: 
See Elvira's Macabre Mobile. Her custom, vintage, 1958 Ford Thunderbird was created for the feature film, Elvira, Mistress of the Dark (1988). Refurbished in 1997 by George Barris and again in 2012 by Danny Koker of Count's Kustoms, this classic ride is unlike any other!  With a cobweb grill, intricate skeleton hands gripping the headlights, leopard print interior, and a custom coffin fitted into the trunk, this macabre classic has arrived at the museum just in time for Halloween!
Elvira's original red velvet sofa, used from 1981-2011 in a variety of television and film productions, including: Movie Macabre (1981), The Search For The Next Elvira (2007), and Elvira's Movie Macabre (2010).
Custom gowns created by J&M Costumers and worn for a variety of productions between the years 1984-1994, including: Elvira's Movie Macabre (1981), Elvira's Thriller Video Series (1985). See the "hero dress" from the 1988 feature film, Elvira, Mistress of the Dark!
Skeleton "Bone Phone" Telephone Prop.  This prop was custom made and used for the Elvira's Midnight Madness video series (1990), Elvira's Box Of Horror video series (2004), and Elvira's Movie Macabre television series (2010).
Serpent earrings, jeweled dagger, and much more!
Buy Tickets Here! 
---
About | ● The Hollywood Museum
The Hollywood Museum, the official museum of Hollywood, has the most extensive collection of Hollywood memorabilia in the world. The museum, featuring four floors of breathtaking exhibits, is home to more than 10,000 authentic showbiz treasures– one of a kind costumes, props, photographs, scripts, stars' car collections and personal artifacts, posters, and vintage memorabilia from favorite films and TV shows. The museum also showcases the history of Hollywood and the Hollywood Walk of Fame.
See hundreds of costumes on display, including Marilyn Monroe's million dollar dress, Elvis' personal bathrobe, I Love Lucy, Superman, Star Trek, Transformers, Glee, High School Musical, Michael Jackson, Leonardo DiCaprio, plus Rocky's boxing gloves, Sopranos, Tom Cruise, Nicole Kidman, Beyoncé… See Lucy, Judy, Kate and all the greats! Plus the Rat Pack, Jurassic Park, Baywatch, Jaws, Planet of the Apes, The Flintstones, Harry Potter, Miley Cyrus, George Clooney, Jennifer Lopez, Brad Pitt and Angelina Jolie…and more!!!
Don't miss the lower level to experience Hannibal Lecter's jail cell from Silence of the Lambs, Boris Karloff's mummy, Vampira, Frankenstein and his bride, Elvira– Mistress of the Dark, and other cult horror film favorites.
The Hollywood Museum is housed in the historic Max Factor Building where Max Factor, Hollywood's Makeup King , created the looks of Hollywood's Golden Era stars including Joan Crawford, Bette Davis, Katharine Hepburn, Judy Garland, Mae West, Jean Harlow & Marilyn Monroe and all your favorite stars…from the Silents through the 1970's… Don't forget to visit Max Factor's world famous makeup rooms and see where Hollywood's greatest stars got their "look". See where Marilyn Monroe became a blonde and Lucille Ball a famous redhead!
Visit the largest collection of costumes, props, posters and photographs Hollywood has to offer!
Open Wed. – Sun. 10am – 5pm
1660 N. Highland Ave., at Hollywood Blvd.
(323) 464-7776
www.TheHollywoodMuseum.com
The Hollywood Museum is a 501 (c)(3) not-for-profit corporation.
---
To read about The Hollywood Museum, click here.
Visit us on Facebook, here. 
Follow us on Twitter, here.