Past Exhibit: Loretta Young: Hollywood Legend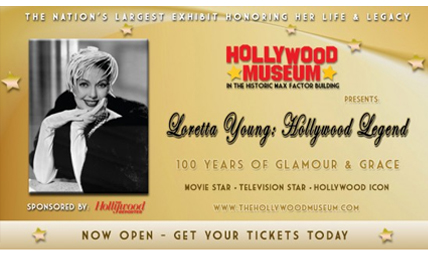 The Hollywood Museum in the Historic Max Factor Building Celebrates "Loretta Young: Hollywood Legend" 100 Years of Glamour & Grace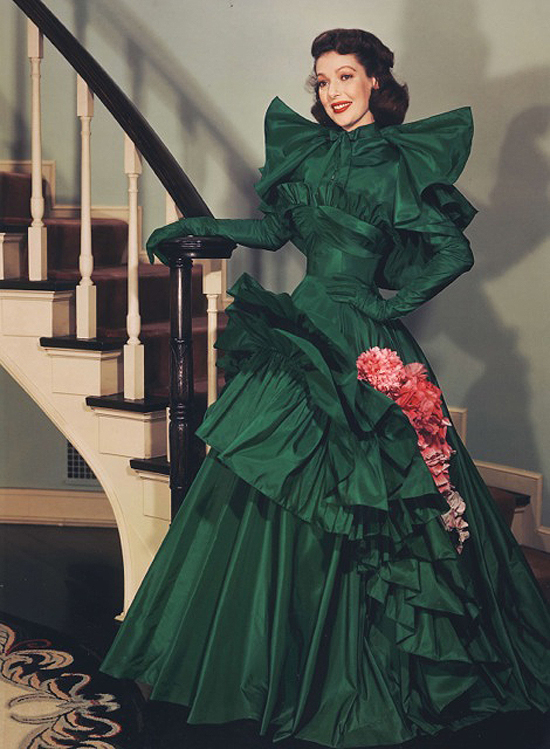 The Nation's Largest Exhibit Of Authentic Memorabilia Honors Her Life
Co-Sponsored by:
The Hollywood Museum and co-sponsor The Hollywood Reporter debut "Loretta Young: Hollywood Legend," the most comprehensive collection of authentic Hollywood memorabilia ever assembled, to mark the 100th Anniversary of the life of Loretta Young, beginning January 9, 2013. The Hollywood Museum has created a vibrant celebration of the movie star and fashion icon of the 20th Century, offering an intimate look at this remarkable woman, her career and her intriguing personal life.
The first actress to win both an Academy Award® and an Emmy Award®, Young's professional longevity spans over seven decades – beginning as a child ingénue during the Silent Era of motion pictures, attaining star status as a romantic leading lady during Hollywood's Golden Age, and onto television as the host of her own popular dramatic series, The Loretta Young Show, on NBC. The Hollywood Museum, the official museum of Hollywood, is in the Historic Max Factor Building located at 1660 N. Highland Ave. at Hollywood Blvd. For Exhibit Photos: Loretta Young
The "Loretta Young: Hollywood Legend" exhibit explores her personal life including love letters from Spencer Tracy and Clark Gable, among other leading men in her life.  The comprehensive collection includes never before displayed items gathered from family, friends and private collectors. The exhibit presents Miss Young's designer clothing and accessories from her personal wardrobe, costumes, photographs, contracts, documents, private papers including her handwritten correspondence, home movies, Academy Awards® and Emmy Awards® and more.
Jean Louis, Academy Award® winning Hollywood costume designer and Loretta Young's husband, is featured in an exclusive glamorous costume display.  Mr. Louis was the designer for many mega stars including Rita Hayworth, Marlene Dietrich, Judy Garland, Betty Grable, Joan Crawford, Doris Day, Julie Andrews and Marilyn Monroe.
"We are delighted to spotlight one of the greatest Hollywood legends, Loretta Young," said Donelle Dadigan, Founder and President of The Hollywood Museum, "whose star talents transcended motion pictures and television. It is especially poignant to showcase the collection at The Hollywood Museum in the historic Max Factor Building as Loretta Young was the first Max Factor makeup model."
Highlights of the Exhibition include:
Awards – Collection of Miss Young's Awards including an Oscar®, two Emmys®, Life Spirit Award and more.
Costumes from The Crusades, Rachel and The Stranger and The Men in Her Life.
Movie Star Make-up – Loretta Young was the first Max Factor Girl. A star dressing table highlighted by photos of Loretta Young with Max Factor (Loretta Young was the first Max Factor Girl) will include Max Factor's signature line of make-up designed for Miss Young and his brunettes.
Loretta at Home – Personal Collection of dresses, gowns, shoes, gloves & jewelry worn in Miss Young's personal life as well as décor from her homes in Beverly Hills and Palm Springs. Two of Miss Young's favorite gowns designed by Academy Award winning costumer Jean Louis, worn on numerous occasions at The White House and Los Angeles Charity Galas.
Timeless Beauty – Photo collection spanning her career in film and television as well as many candid shots with friends and family
As Seen With – Photo Collection of Miss Young with fellow Hollywood actors and celebrities, Royalty and Heads of State.
The Men in Her Life – Photos and publicity items with the handsome leading men and three famous husbands, including a tribute to her beloved friend and husband and famous costume designer, Jean Louis.
Hollywood History – Extensive international collection of movie posters and movie memorabilia gathered from the around the world and in four languages. Extensive collection of 80+ Movie Posters in French, Spanish, English languages.
Portraits of a Lady – A framed collection of original oil paintings and drawings of Miss Young.
Loretta Young, Humanitarian – A collection of awards and tributes for Miss Young's Catholic and charity work.
Loretta Young, the Seamstress – Replica of Miss Young's sewing table with her vintage Singer machine, her hand sewn caftan, several "Loretta Young's Choice" patterns and matching dress and photo of her sewing on a film location.
Miss Young Endorses – Includes advertising ephemera, such as newspaper and magazine advertisements and collection of her ads with vintage items, photos attached.
Behind the Scenes in Hollywood – Home movies plus photos and memorabilia will provide a private look at Miss Young's life and career.
Academy Award® winning Jean Louis, Hollywood Dressed – First time ever assembled Jean Louis gowns and memorabilia in a very special tribute to Jean Louis, Loretta's husband, friend and designer to the stars—THM has gathered Jean Louis costumes created for Lana Turner in Imitation of Life and Rita Hayworth in Gilda as well as five of the gowns he designed for Loretta and others.
Collectors include Dewey R. Bennett, Charlotte Braitsch, Michael Clark, John Davey, Joseph DaVino, James de Menna, Molly Durkin, Darlene Eastman, Roger Freeman, Edward J. Funk, Leonard Flory, Francisco George, Grayce Gottlieb, Hagley Museum (Avon Products), John Howe & Will Willford III, Salvador Iglesias, Jr., Nicholas Inglis, Alice Weil Judelson, Christopher & Linda Lewis, Peter & Corin Lewis, Father Vincent Lopez, Marlene Dietrich Collection Berlin, David Mason, Karen Noske, Patricia Gottlieb  Oygar, Palm Springs Historical Society, Danniel Rangel, Manuel Saleta, Jr., Diana Schafer, L. Richard Scroggins, Joanna Smith, Betty Jane Tornstrom, Susanna Van Tassel, and Tom White.
Opens January 9th, 2013.  Get tickets here!
---
DVD COLLECTION
On February 12, 2013, Timeless Media Group, a division of Shout! Factory, will release the The Loretta Young Show:  Best of The Complete Series- 100th Birthday Edition on DVD. Featuring a number of episodes never before on DVD and loaded with bonus features including an interview with Young's children, rare family home movies and a featurette of Young discussing her storied career,  this 17-DVD box set is a must have for fans of Golden Age Television and classic Hollywood aficionados alike. Starting with the first episode of the original show, Letter from Loretta, this collection includes the very best of The Loretta Young Show, highlighting Young's career as actress, mother and role model to millions of American women. Fans can pre-order their copy today by visiting Loretta Young DVD.
---
About | ● The Hollywood Museum
The Hollywood Museum, the official museum of Hollywood, has the most extensive collection of Hollywood memorabilia in the world. The museum, featuring four floors of breathtaking exhibits, is home to more than 10,000 authentic showbiz treasures– one of a kind costumes, props, photographs, scripts, stars' car collections and personal artifacts, posters, and vintage memorabilia from favorite films and TV shows. The museum also showcases the history of Hollywood and the Hollywood Walk of Fame.
See hundreds of costumes on display, including Marilyn Monroe's million dollar dress, Elvis' personal bathrobe, I Love Lucy, Superman, Star Trek, Transformers, Glee, High School Musical, Michael Jackson, Leonardo DiCaprio, plus Rocky's boxing gloves, Sopranos, Tom Cruise, Nicole Kidman, Beyoncé… See Lucy, Judy, Kate and all the greats! Plus the Rat Pack, Jurassic Park, Baywatch, Jaws, Planet of the Apes, The Flintstones, Harry Potter, Miley Cyrus, George Clooney, Jennifer Lopez, Brad Pitt and Angelina Jolie…and more!!!
Don't miss the lower level to experience Hannibal Lecter's jail cell from Silence of the Lambs, Boris Karloff's mummy, Vampira, Frankenstein and his bride, Elvira– Mistress of the Dark, and other cult horror film favorites.
The Hollywood Museum is housed in the historic Max Factor Building where Max Factor, Hollywood's Makeup King , created the looks of Hollywood's Golden Era stars including Joan Crawford, Bette Davis, Katharine Hepburn, Judy Garland, Mae West, Jean Harlow & Marilyn Monroe and all your favorite stars…from the Silents through the 1970's… Don't forget to visit Max Factor's world famous makeup rooms and see where Hollywood's greatest stars got their "look". See where Marilyn Monroe became a blonde and Lucille Ball a famous redhead!
Visit the largest collection of costumes, props, posters and photographs Hollywood has to offer!
Open Wed. – Sun. 10am – 5pm
1660 N. Highland Ave., at Hollywood Blvd.
(323) 464-7776
www.TheHollywoodMuseum.com
The Hollywood Museum is a 501 (c)(3) not-for-profit corporation.
---
To read about The Hollywood Museum, click here.
Visit us on Facebook, here. 
Follow us on Twitter, here.