Past Exhibit: Marilyn Monroe: The Exhibit – Hollywood Legend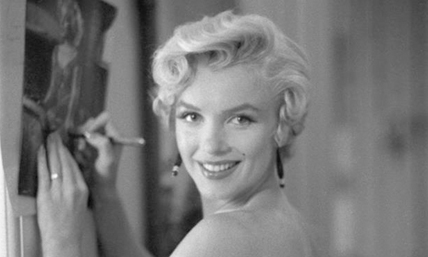 Marilyn Monroe: The Exhibit – Hollywood Legend
Opens Wednesday, June 1 – September 8
The Hollywood Museum Honors Monroe's Life And Legacy with the Nation's Largest Annual Exhibit Of Authentic Memorabilia
Back by popular demand at The Hollywood Museum, celebrates the fabled actress' life, opening on her birthday, Saturday, June 1, with the nation's largest exhibit of authentic memorabilia (including new acquisitions) presenting an intimate look at her life and legacy. If alive, Marilyn would be 87 years old and her legendary image still lives on as superstar and ultimate icon of glamour and beauty.
The scope of the exhibition encompasses Marilyn Monroe's costumes, jewellery, furs and accessories from her films; publicity gowns and personal wardrobe; her 1961 Fleetwood Cadillac limousine given as a gift from Darryl Zanuck; original Marilyn Monroe artwork, photographs and documents from her private files; furniture from her final home in Brentwood; and many of Marilyn's personally owned artifacts. The Hollywood Museum, in the Historic Max Factor Building, is located at 1660 N. Highland Ave. in the heart of Hollywood.
"Fans of all ages flock to Hollywood from around the world each year to honor Marilyn's life and memory," says Museum Founder and President Donelle Dadigan. "The Hollywood Museum is proud to host this definitive and meaningful Marilyn retrospective which includes never-before-seen items."
"This Museum is considered the perfect home for this exhibit since it is actually here where the legendary Max Factor originally designed Marilyn's on-screen hair and coloring," says Dadigan. "When you walk into the 'FOR BLONDES ONLY ROOM,' you feel Marilyn Monroe's presence."
"Marilyn Monroe: The Exhibit" displays the million-dollar dress Marilyn wore on her honeymoon with Joe DiMaggio. One of the highlights of The Hollywood Museum's permanent collection, this dress was made famous when she entertained the troops during USO shows in Korea in 1954. In addition to THM's permanent collection, items from the Scott Fortner Marilyn Monroe Collection and the Greg Schreiner Marilyn Monroe Collection are featured in this exclusive exhibit, including film costumes from The Prince and The Showgirl and There's No Business Like Show Business, clothing and furs from Marilyn's personal wardrobe, including the brilliant green Pucci jersey top, along with Marilyn's personal cosmetics, private documents, annotated film scripts and hand picked furnishings from her Brentwood California home.
Click here to see the Image Gallery from the George Barris-Marilyn Monroe Book Signing Event.
Get tickets here!
---
About | ● The Hollywood Museum
The Hollywood Museum, the official museum of Hollywood, has the most extensive collection of Hollywood memorabilia in the world. The museum, featuring four floors of breathtaking exhibits, is home to more than 10,000 authentic showbiz treasures– one of a kind costumes, props, photographs, scripts, stars' car collections and personal artifacts, posters, and vintage memorabilia from favorite films and TV shows. The museum also showcases the history of Hollywood and the Hollywood Walk of Fame.
See hundreds of costumes on display, including Marilyn Monroe's million dollar dress, Elvis' personal bathrobe, I Love Lucy, Superman, Star Trek, Transformers, Glee, High School Musical, Michael Jackson, Leonardo DiCaprio, plus Rocky's boxing gloves, Sopranos, Tom Cruise, Nicole Kidman, Beyoncé… See Lucy, Judy, Kate and all the greats! Plus the Rat Pack, Jurassic Park, Baywatch, Jaws, Planet of the Apes, The Flintstones, Harry Potter, Miley Cyrus, George Clooney, Jennifer Lopez, Brad Pitt and Angelina Jolie…and more!!!
Don't miss the lower level to experience Hannibal Lecter's jail cell from Silence of the Lambs, Boris Karloff's mummy, Vampira, Frankenstein and his bride, Elvira– Mistress of the Dark, and other cult horror film favorites.
The Hollywood Museum is housed in the historic Max Factor Building where Max Factor, Hollywood's Makeup King , created the looks of Hollywood's Golden Era stars including Joan Crawford, Bette Davis, Katharine Hepburn, Judy Garland, Mae West, Jean Harlow & Marilyn Monroe and all your favorite stars…from the Silents through the 1970's… Don't forget to visit Max Factor's world famous makeup rooms and see where Hollywood's greatest stars got their "look". See where Marilyn Monroe became a blonde and Lucille Ball a famous redhead!
Visit the largest collection of costumes, props, posters and photographs Hollywood has to offer!
Open Wed. – Sun. 10am – 5pm
1660 N. Highland Ave., at Hollywood Blvd.
(323) 464-7776
www.TheHollywoodMuseum.com
The Hollywood Museum is a 501 (c)(3) not-for-profit corporation.
---
To read about The Hollywood Museum, click here.
Visit us on Facebook, here. 
Follow us on Twitter, here.