100 Years of Hal Roach Studios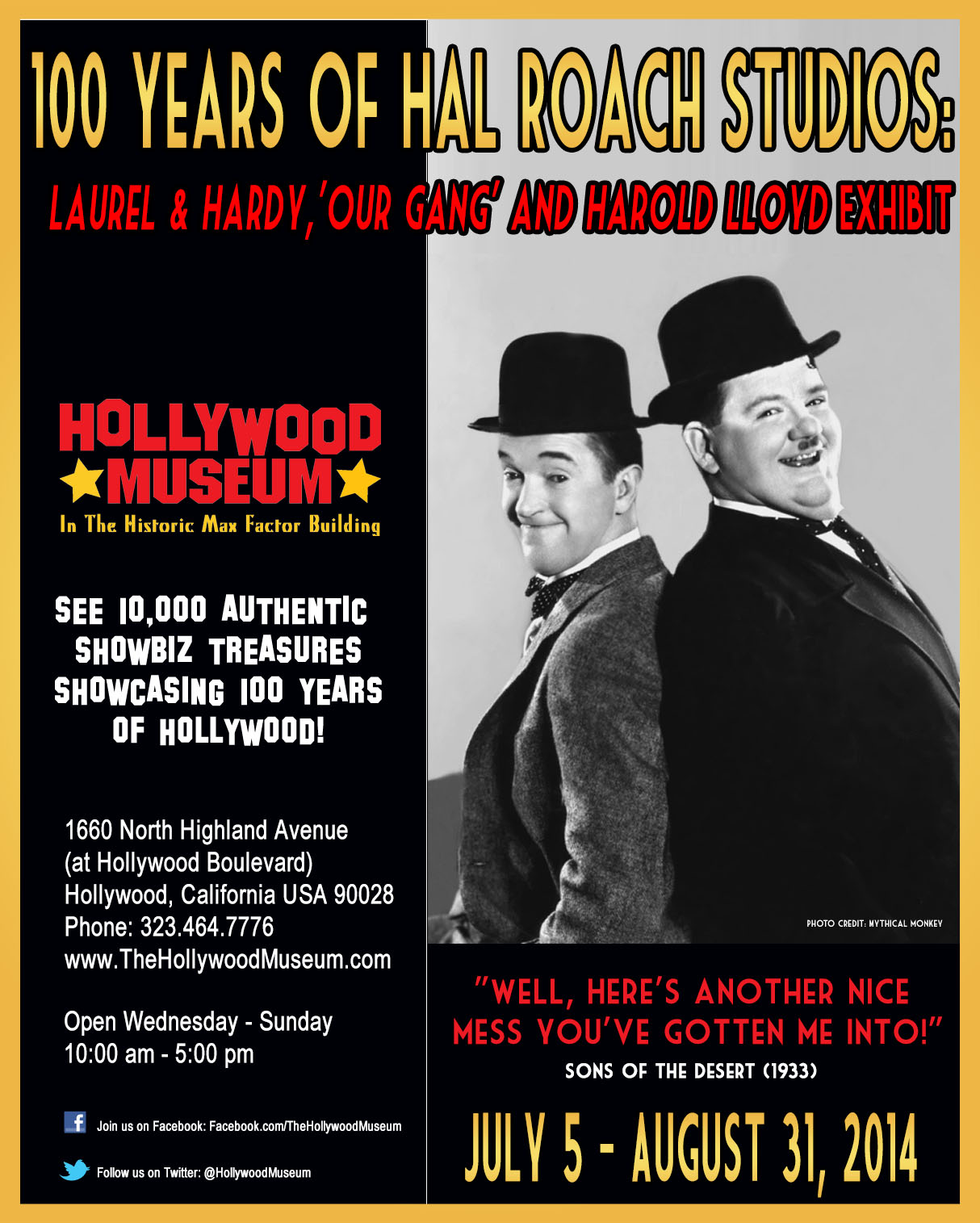 "100 YEARS OF HAL ROACH STUDIOS: LAUREL & HARDY, OUR GANG AND
HAROLD LLOYD" TO BE CELEBRATED AT THE HOLLYWOOD MUSEUM
The Hollywood Museum unveils its new exhibit, "100 Years of Hal Roach Studios: Laurel & Hardy, 'Our Gang' and Harold Lloyd" in honor of the Hollywood icon's centennial, open to the public July 5 to December 31.  The exhibit contains authentic photos, costumes and props from the rich history of Hal Roach Studios and the legendary talents that emanated from there in the early 1900's. Sons of the Desert, the official International Laurel & Hardy Society, is co-sponsoring the exhibition in conjunction with their international convention, held July 2-6 in the heart of Hollywood. The Hollywood Museum in the Historic Max Factor Building is located at 1660 N. Highland Ave. at Hollywood and Highland.
"We are so pleased to honor the 100th Anniversary of the Hal Roach Studios with this special exhibit," states Donelle Dadigan, Founder and President of the Museum. "Everyone remembers the celebrated comedy team Laurel and Hardy who made famous the phrase 'Well, here's another nice mess you've gotten me into,' the legendary appeal of  'Our Gang' and their famous dog Pete the Pup, and actor Harold Lloyd, one of the most famous and influential comedians of the great silent film era."
Hal Roach's life itself was as colorful as anything ever portrayed on film. In addition to Laurel and Hardy, Hal Roach Studios brought to fame such actors as Harold Lloyd, the 'Our Gang' kids (later known as The Little Rascals or Hal Roach's Rascals), bombshell actress Thelma Todd, Zasu Pitts and Charley Chase. Other performers who graduated from Roach comedies on their path to stardom were such actors as Jean Harlow, Janet Gaynor, Jean Arthur, Fay Wray, Paulette Goddard and Boris Karloff.
Roach's powerful film of John Steinbeck's Of Mice and Men was possibly his masterwork and One Million B.C. was notable for his collaboration with D.W. Griffith.  Roach's foray into the genre of screwball comedies created such diverting features as Turnabout and Merrily We Live, while his fast and lively swashbucklers included Captain Fury and Captain Caution. John Wayne, Buster Keaton and John Ford were among the many big name stars and directors who worked on Roach television shows.
Objects pertaining to Hal Roach include his honorary 1984 Oscar® and a Hal Roach Studios camera, while Harold Lloyd items include a makeup case, glasses and rare film posters and photos.
Highlighting the exhibit are props and costumes including Stan Laurel's personal favorite Fedora, the iconic Fez's worn in Sons of the Desert (1933) and a plaque from Lake Laurel and Hardy offered by the City of Los Angeles archives. Additional Laurel & Hardy ephemeras consist of film posters, rare photographs, scripts, sheet music, scrapbooks, personal photos and letters and Al Hirschfield-designed window cards.
Laurel and Hardy were solo performers who were cast separately in silent films, but within a year after they were fortuitously paired together at the Hal Roach Studios in 1926, they were being touted as the best new comedy team. After working together on silent films and transitioning to "talkies," their success spread around the world, and they began making feature films, winning an Oscar® for their film short The Music Box ('32).
"The Sons of the Desert Society is named after the 1933 feature film," said Bob Saterfield, President of Sons of the Desert Society, and "is devoted to keeping the lives and works of Stan Laurel and Oliver Hardy before the public, with the strong desire to perpetuate their spirit and genius." Each local chapter of the society is called a "tent," and is named after a Laurel and Hardy film, with over 220 tents.
Contributors to this exhibit include Dan Bacher, Richard W. Bann, Maria Carpenter, William Cassara, Amy Condit, Brad Farrell, Rick Greene, Richard Johnson, Chuck McCann, Mike and Carol Nemeth, Dave and Diane Reidy, Tyler St. Mark, Bob Satterfield, Cliff Sawyer and Randy Skretvedt.